Website 👉 https://u-s-news.com/
Telegram 👉 https://t.me/usnewscom_channel


The new iPhone 15 is here, and while it might be the hot product to get, it still has its shortcomings. The sleek glass on the front and the back are still susceptible to breaking, and the wide grab and smooth metal edges can make it hard to hold onto, especially in the many positions you're likely to hold it throughout the regular course of use. Whether you're an adventurer looking to make sure your phone can hang with you, a content creator looking to get all the flexibility you need from your phone, or you just want a phone that's a bit more secure and easy to use, the new UPRO Ostand, Lstand, and Pstand cases from TORRAS offer an effective solution. And (bonus!) each adds an extra-handy kickstand to your phone that'll let you go hands-free whenever and wherever you want. 
If you want a case that does it all, the UPRO Ostand has you covered. Its circular kickstand sits at the middle of the phone, offering a boost to the iPhone 15's own magnets so you can get even more reliable wireless charging.  The stand is made of aerospace-grade aluminum and can open up into three different positions, letting you prop your phone up in portrait or landscape position, and you can slide your fingers through the ring for an easy, secure hold on the phone. The case also adds extra protection to your phone with a snug fit that keeps dust out, a silky-smooth but hard and firm polycarbonate back plate, and grippy rubber edges that can absorb the impact from drops and protects the phone on all sides.
When each day throws something new at you, you need to adapt, and you need a case that can adapt with you. The UPRO Ostand R brings this extra flexibility. Its robust stand is ring-shaped like the standard Ostand, but it adds 360-degree rotation, so you can swivel it around to any angle you need — portrait, landscape, or anywhere in between. Just like the Ostand, the kickstand can also serve as a grip, and it offers 18N of magnetic force, letting you attach it not just to MagSafe chargers but also metallic surfaces for effortless, hands-free use all over. While it's unlikely to fall, the sturdy build of the case provides protection for falls up to 12-feet, so it's not the everyday accident that's going to put your new phone in peril. 
And for the hardcore adventurers who plan on putting their phone through the harshest conditions on the most epic journeys, TORRAS has the Ostand SS. This model incorporates TORRAS Lab's ShockMAT Airbag Tech to combine the rubber case exterior with internal air gaps that can absorb 98% of the impact of a fall and protect your phone from falls up to 18-feet. It still has the kickstand ring of the other Ostand models, and the sandblasted TPU material of the case offers a tactile grip. That clear design will let your iPhone stand out for its style even as you explore the corners of the earth. 
For subtle style you can flex at the office and out on the town, the UPRO Pstand is on deck. It features an understated design that still shows off some of your phone's aesthetic. Its hard back and silicone edges provide grip and protection, absorbing enough shock to keep the phone safe from even 12-foot falls while offering a soft and silky feel in the hand. A busy lifestyle can be a drain on your phone's battery, so the thoughtful design and powerful Halbach magnets in the case allow you to keep using the phone with a MagSafe charger even while you use the kickstand. That stand is discreet and crafted from aluminum, giving you a sturdy platform for portrait and landscape use.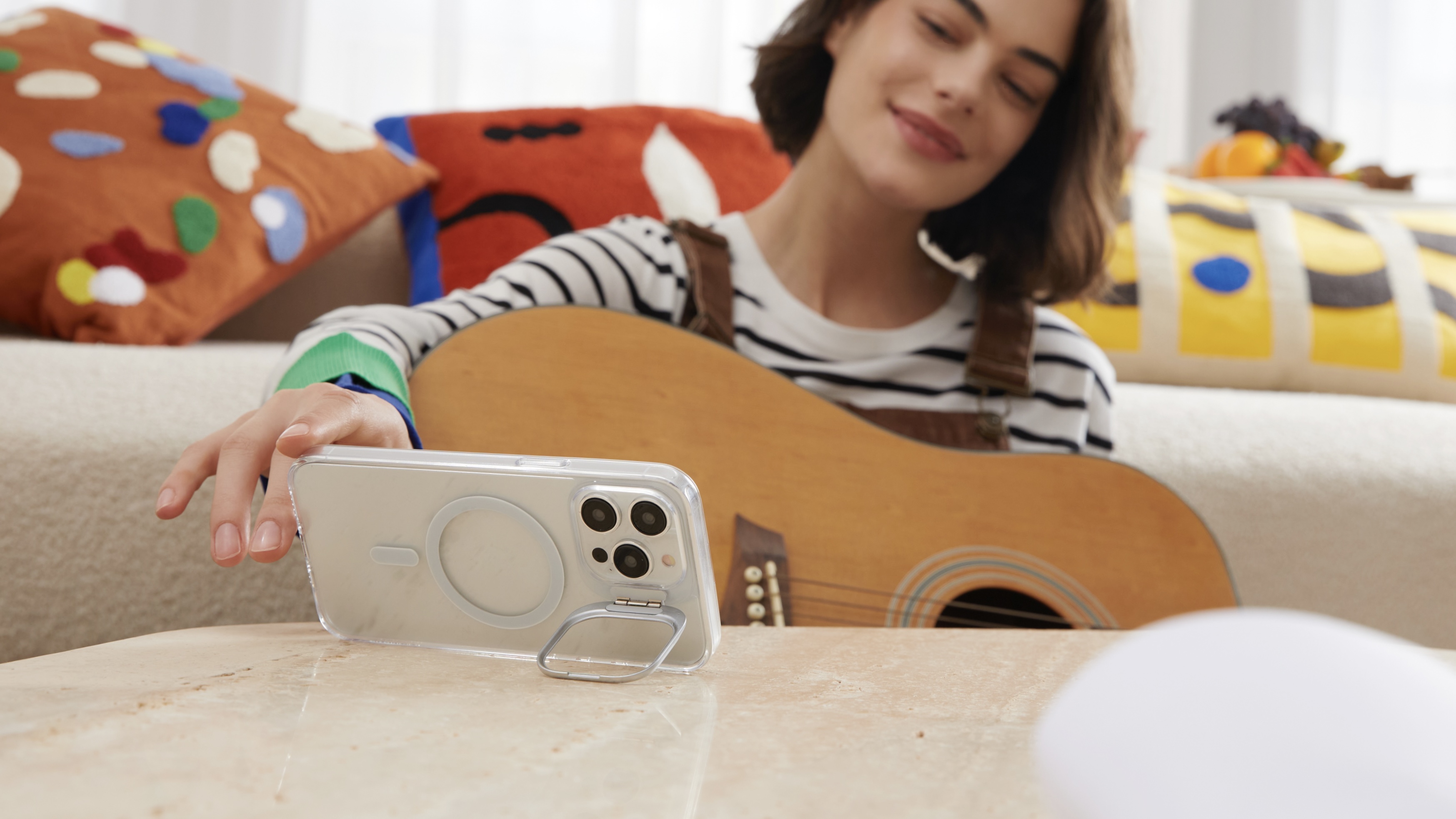 If you're an especially heavy phone user, you'll want the TORRAS UPRO Lstand case. This case puts an emphasis on helping you keep your phone fully charged. With its aluminum kickstand built around the camera housing instead of the MagSafe section of the phone, you can keep MagSafe chargers attached at all times, whether the phone is standing up or laying down. TORRAS ensured the kickstand doesn't get in the way of using the camera either, only further enhancing the protection of one of the phone's key components. Opened fully, the stand can also help you line up wide-angle photos for hands-free shots with all of your friends. The UPRO Lstand comes in transparent and semi-transparent designs so you can show off the looks of your new phone, but you won't be sacrificing security, as the X-Shock 3.0 protection can shield the phone from falls up to 8 feet. 
You'll find all of these cases and more accessories from TORRAS available for sale on Amazon here. 
(Visited 4 times, 1 visits today)