Website 👉 https://u-s-news.com/
Telegram 👉 https://t.me/usnewscom_channel


Sen. Tim Scott of South Carolina showcases how he's "living proof that America is the land of opportunity" in the first TV commercials of his newly announced 2024 campaign for the Republican presidential nomination.
"I was raised by a single mother in poverty. She taught me to have stubborn faith, faith in God, faith in ourselves, and faith in America," Scott says in his new ads, which start running Tuesday in Iowa and New Hampshire, the two states that lead off the GOP nominating calendar.
And Scott spotlights at the top of his ad that "I rose from a child of poverty to a candidate for president of the United States because we chose patriotism over pity, and to be victors, not victims."
WHAT TIM SCOTT SAID AS HE LAUNCHED HIS GOP PRESIDENTIAL CAMPAIGN
The senator's campaign says the commercial is the initial TV spot in a $6 million ad buy into the summer in Iowa and New Hampshire that they announced late last week.
WHO'S IN AND WHO'S ON THE SIDELINES — YOUR GUIDE TO THE 2024 GOP PRESIDENTIAL NOMINATION RACE
The release of the commercial comes one day after Scott, a rising star in the GOP and the only Black Republican in the Senate, formally launched his presidential campaign at a kickoff event at Charleston Southern University, his alma mater, in his hometown of North Charleston, South Carolina.
The senator is mostly preaching what he described in an interview with Fox News on the eve of his campaign kickoff as an "optimistic, positive message anchored in conservatism."
But in his spot, the senator also takes aim at President Biden and Democrats, arguing that "it pains my soul to see the Biden liberals attacking every rung of the ladder that helped me climb. Indoctrination in our schools, inflation in our economy, crime in our neighborhoods, victimhood in our culture."
TIM SCOTT TELLS FOX NEWS GOP VOTERS HAVE 'HUNGER' FOR POSITIVE, CONSERVATIVE MESSAGE
Scott adds: "To the radical left that says we're an evil, declining country, I say the truth of my life disproves your lies."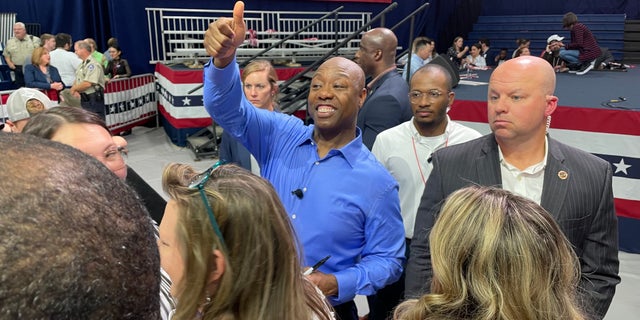 Scott joins a growing field of GOP Republican presidential contenders. Atop that list is former President Donald Trump, who is the clear front-runner in the polls as he makes his third straight run for the White House.
CLICK HERE TO GET THE FOX NEWS APP
While Scott does not have the same national standing with conservatives enjoyed by Trump and Florida Gov. Ron DeSantis – who's expected to launch his presidential campaign this week – he's known as a ferocious fundraiser who had roughly $22 million in his campaign coffers at the end of March, which can be transferred to his presidential campaign. His fundraising war chest could give Scott a head start over some of his rivals for the Republican nomination.
Scott is expected to huddle Tuesday in South Carolina with top donors before campaigning Wednesday in Iowa and Thursday in New Hampshire.
(Visited 1 times, 1 visits today)
KNOWLEDGE is POWER / REAL NEWS is KEY
Woke & Liberal News is Fake News
You will find it on:
CNN - CBS - MSNBC - ABC - The New York Times - The Washington Post - Facebook - Twitter and more
They ALL SUCKS and simply DO NOT tell you the truth PERIOD

WARNING! If you usually get your news from one of these so-called "News Services" Welcome to you, but be prepared for big surprises!
eg. 2+2 is not 5 or 22 but 4 - There is not 57 different genders, only 2
KNOWLEDGE is POWER / REAL NEWS is KEY
Help your friends, family and the truth by sharing this article.

PGlmcmFtZSB3aWR0aD0iNjQwIiBoZWlnaHQ9IjM2MCIgc2Nyb2xsaW5nPSJubyIgZnJhbWVib3JkZXI9IjAiIHN0eWxlPSJib3JkZXI6IG5vbmU7IiBzcmM9Imh0dHBzOi8vd3d3LmJpdGNodXRlLmNvbS9lbWJlZC8ydEZzdEJzNjFQRTUvIj48L2lmcmFtZT4=
IMPORTANT!
Latest Video
PGlmcmFtZSBpZD0ib2R5c2VlLWlmcmFtZSIgd2lkdGg9IjY0MCIgaGVpZ2h0PSIzNjAiIHNyYz0iaHR0cHM6Ly9vZHlzZWUuY29tLyQvZW1iZWQvJTQwQWxleEpvbmVzQ2hhbm5lbD9mZWF0dXJlPWxhdGVzdCIgYWxsb3dmdWxsc2NyZWVuPjwvaWZyYW1lPg==
PGlmcmFtZSB3aWR0aD0iNjQwIiBoZWlnaHQ9IjM2MCIgc2Nyb2xsaW5nPSJubyIgZnJhbWVib3JkZXI9IjAiIHN0eWxlPSJib3JkZXI6IG5vbmU7IiBzcmM9Imh0dHBzOi8vd3d3LmJpdGNodXRlLmNvbS9lbWJlZC9CWDhmdW1VR2pRTUQvIj48L2lmcmFtZT4=
THIS IS IT!!!
Latest Video
PGlmcmFtZSBpZD0ib2R5c2VlLWlmcmFtZSIgd2lkdGg9IjY0MCIgaGVpZ2h0PSIzNjAiIHNyYz0iaHR0cHM6Ly9vZHlzZWUuY29tLyQvZW1iZWQvJTQwUlQ/ZmVhdHVyZT1sYXRlc3QiIGFsbG93ZnVsbHNjcmVlbj48L2lmcmFtZT4=
Livestream
PGlmcmFtZSBpZD0ib2R5c2VlLWlmcmFtZSIgd2lkdGg9IjY0MCIgaGVpZ2h0PSIzNjAiIHNyYz0iaHR0cHM6Ly9vZHlzZWUuY29tLyQvZW1iZWQvJTQwUlQ/ZmVhdHVyZT1saXZlbm93IiBhbGxvd2Z1bGxzY3JlZW4+PC9pZnJhbWU+
Want The Real News
and join millions of other active users