Website 👉 https://u-s-news.com/
Telegram 👉 https://t.me/usnewscom_channel


A Cleveland, Ohio Jewish cemetery was vandalized with antisemitic graffiti, amid increased anti-Jewish acts following the Oct. 7 invasion of Israel by Hamas-led terrorists.
FOX 8 in Cleveland reported that several headstones at the Chesed Shel Emeth Cemetery on Ridge Road were spray painted with red swastikas.
The swastikas were seen as the war between Israel and Hamas enters its fifth week.
HISTORIC RISE IN ANTISEMITISM HAS AMERICAN JEWS ON EDGE: 'GENERATIONAL CHALLENGE'
The Jewish Federation of Cleveland posted to X, formerly known as Twitter, that it is "absolutely sickening" anyone would hate Jewish people so much they would desecrate a cemetery.
"This cowardly act to violate the memory of our elders only confirms what we already know: the hatred of the Jewish community here, and around the world, now is at a level not seen in generations," the federation posted in a series of tweets. "We will support law enforcement in any way we can to see that those who are responsible face the consequences of their actions."
The act is another show of antisemitic hate toward American Jews, which is on the rise.
CHANTS 'CALLING FOR THE MUDER OF JEWS' WERE SHOUTED AT ME DURING COOPER UNION PROTEST, STUDENT RECALLS  
Carolyn Normandin, the regional director of the Anti-Defamation League in Michigan, told Fox News Digital about the situation on the ground in Ohio's neighboring state, saying they typically get two to three incidents a week, but between Oct. 7 and Oct. 21, they got 61 incidents.
Nationwide, the Anti-Defamation League reported a 388% rise in antisemitic incidents over the same period last year.
CORNELL STUDENT ACCUSED OF THREATENING TO BEHEAD JEWISH BABIES TO REMAIN IN JAIL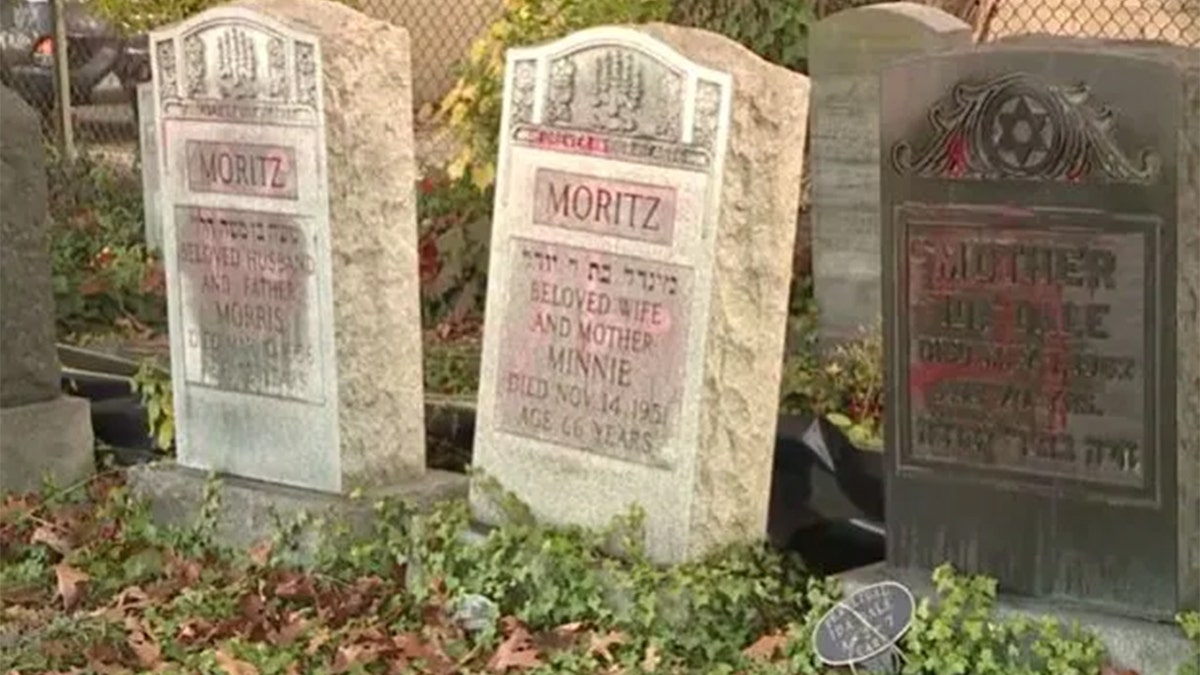 As is the case around the country, most of the incidents reported in Michigan involve rallies in which protesters shouted inflammatory calls for violence, "celebrat[ed] the killing of civilians" or "question[ed] that Hamas [carried out] the attacks."
Rep. Shontel Brown, D-Oh., turned to social media after learning about the vandalized headstones.
"Saddened and outraged that a Jewish cemetery in Brooklyn has been desecrated," she posted on X, formerly known as Twitter. "Sending my thoughts to the local Jewish community-we are with you.
CLICK HERE TO GET THE FOX NEWS APP 
"Antisemitism is clearly on the rise, and we must speak out," she added. "Antisemitism and all forms of hate have no place in NE Ohio, or anywhere."
Beth Bailey of Fox News Digital contributed to this report.
(Visited 4 times, 1 visits today)