Website 👉 https://u-s-news.com/
Telegram 👉 https://t.me/usnewscom_channel


Senate Minority Leader Mitch McConnell Wednesday won re-election as Senate GOP leader, fending off a challenge from Sen. Rick Scott and setting himself up to become the longest-serving party leader in the history of the Senate.
McConnell, R-Ky., won a vote that broke 37-10, with one senator abstaining, according to Sen. Ted Cruz, R-Texas. 
Cruz and several other GOP senators had called for the vote to be postponed until after the Dec. 6 Georgia Senate runoffs. But a motion to do that from Cruz failed 32-16 ahead of the GOP leader vote. 
"I'm not going anywhere," McConnell said after the vote, when asked if he would consider stepping aside after breaking the record of the longest-serving party leader in Senate history, late Sen. Mike Mansfield, D-Mont.
Scott announced his candidacy for Republican leader in a Tuesday caucus lunch, and pitched himself as a candidate to change how Senate Republicans operate. 
"If you simply want to stick with the status quo, don't vote for me," he said in a letter to senators. 
Scott didn't win the election. But Sen. Mike Braun, R-Ind., who was one of his most vocal backers, said he believed Scott's candidacy may have changed how Republican operate going forward. 
"I told leader McConnell this has been the healthiest enterprise since I've been here in terms of caucus discussion," Braun said. "And Rick in my mind brought it out to where we made it a discussion."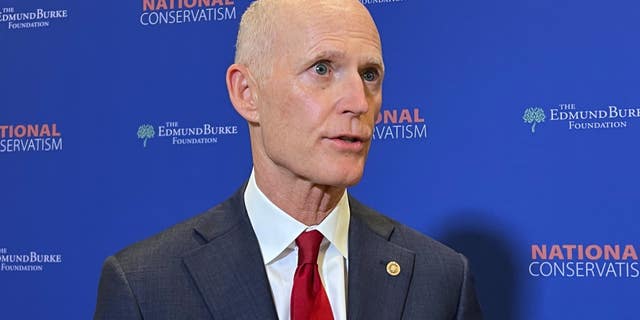 RICK SCOTT AND MCCONNELL BATTLE FOR GOP LEADER AS SENATORS STEW AFTER MIDTERMS: 'LOT OF FRUSTRATION'
Braun added: "I think he's gonna probably make sure that 50 members, depending on where we're at, all of us feel like we're part of the process. And I think that's healthy." 
"Are we going to continue caving in to Democrats? I hope the answer is no. And I hope leadership will think twice about it after this," Sen. Josh Hawley, R-Mo., added. 
The leadership election comes at a tense time for Republicans, who are reeling from weak midterm elections. Despite a poor economy and favorable historical trends, they took just a miniscule majority in the House and failed to win the Senate. 
RICK SCOTT ANNOUNCES PLAN TO UNSEAT MITCH MCCONNELL AS TOP REPUBLICAN IN THE SENATE
Former President Donald Trump also announced his 2024 presidential run Tuesday night, which will set up plenty of uncomfortable questions for Republicans for months to come. Trump has repeatedly called for McConnell's ousting.
Outside of McConnell, the GOP leadership team for the next Congress will be Sen. John Thune, R-S.D., as whip; Sen. John Barrasso, R-Wyo., as conference chair; Sen. Joni Ernst, R-Iowa, as policy chair; Sen. Shelley Moore Capito, R-W.Va., as conference vice chair; and Sen. Steve Daines, R-Mont., as the National Republican Senatorial Committee chair.
CLICK HERE TO GET THE FOX NEWS APP
The new Congress begins on Jan. 3. The Georgia runoff will decide whether the chamber remains 50-50 evenly split, or whether Democrats will have a 51-49 majority.
Fox News' Chad Pergram, Kelly Phares and Caroline McKee contributed to this report.
(Visited 1 times, 1 visits today)
KNOWLEDGE is POWER / REAL NEWS is KEY
Woke & Liberal News is Fake News
You will find it on:
CNN - CBS - MSNBC - ABC - The New York Times - The Washington Post - Facebook - Twitter and more
They ALL SUCKS and simply DO NOT tell you the truth PERIOD

WARNING! If you usually get your news from one of these so-called "News Services" Welcome to you, but be prepared for big surprises!
eg. 2+2 is not 5 or 22 but 4 - There is not 57 different genders, only 2
KNOWLEDGE is POWER / REAL NEWS is KEY
Help your friends, family and the truth by sharing this article.

PGlmcmFtZSB3aWR0aD0iNjQwIiBoZWlnaHQ9IjM2MCIgc2Nyb2xsaW5nPSJubyIgZnJhbWVib3JkZXI9IjAiIHN0eWxlPSJib3JkZXI6IG5vbmU7IiBzcmM9Imh0dHBzOi8vd3d3LmJpdGNodXRlLmNvbS9lbWJlZC8ydEZzdEJzNjFQRTUvIj48L2lmcmFtZT4=
IMPORTANT!
Latest Video
PGlmcmFtZSBpZD0ib2R5c2VlLWlmcmFtZSIgd2lkdGg9IjY0MCIgaGVpZ2h0PSIzNjAiIHNyYz0iaHR0cHM6Ly9vZHlzZWUuY29tLyQvZW1iZWQvJTQwQWxleEpvbmVzQ2hhbm5lbD9mZWF0dXJlPWxhdGVzdCIgYWxsb3dmdWxsc2NyZWVuPjwvaWZyYW1lPg==
PGlmcmFtZSB3aWR0aD0iNjQwIiBoZWlnaHQ9IjM2MCIgc2Nyb2xsaW5nPSJubyIgZnJhbWVib3JkZXI9IjAiIHN0eWxlPSJib3JkZXI6IG5vbmU7IiBzcmM9Imh0dHBzOi8vd3d3LmJpdGNodXRlLmNvbS9lbWJlZC9CWDhmdW1VR2pRTUQvIj48L2lmcmFtZT4=
THIS IS IT!!!
Latest Video
PGlmcmFtZSBpZD0ib2R5c2VlLWlmcmFtZSIgd2lkdGg9IjY0MCIgaGVpZ2h0PSIzNjAiIHNyYz0iaHR0cHM6Ly9vZHlzZWUuY29tLyQvZW1iZWQvJTQwUlQ/ZmVhdHVyZT1sYXRlc3QiIGFsbG93ZnVsbHNjcmVlbj48L2lmcmFtZT4=
Livestream
PGlmcmFtZSBpZD0ib2R5c2VlLWlmcmFtZSIgd2lkdGg9IjY0MCIgaGVpZ2h0PSIzNjAiIHNyYz0iaHR0cHM6Ly9vZHlzZWUuY29tLyQvZW1iZWQvJTQwUlQ/ZmVhdHVyZT1saXZlbm93IiBhbGxvd2Z1bGxzY3JlZW4+PC9pZnJhbWU+
Want The Real News
and join millions of other active users