Website 👉 https://u-s-news.com/
Telegram 👉 https://t.me/usnewscom_channel


House Speaker Kevin McCarthy, R-Calif., will meet with President Biden on Monday to continue negotiations on raising the debt ceiling, McCarthy announced Sunday.
Biden and McCarthy spoke on the phone Sunday and had a "productive" conversation, McCarthy said, despite throwing barbs at one another in public statements. Biden has stated that the current Republican offer is "unacceptable" and complained that McCarthy has been dragged to the right by "MAGA Republicans." McCarthy, meanwhile, has claimed the opposite.
"I just finished a phone call with the president," McCarthy told reporters. "I believe it was a productive phone call."
Biden is currently on his way back to Washington after attending meetings with G-7 nations in Hiroshima, Japan. McCarthy says he told the president to get some sleep and get briefed up on the current state of negotiations after being absent during the international trip.
WHAT IS THE DEBT CEILING, AND WHAT DOES IT MEAN FOR YOU?
McCarthy says he and Biden will meet "personally" on Monday.
"I told him, we don't have to meet in the morning. You know, let's have some sleep. And then we agreed that he and I are going to get together tomorrow, later in the afternoon, and work out that time to see what we can come to," McCarthy said.
DEM WHO VOTED AGAINST GOP'S DEBT CEILING INCREASE WANTS TO BLOCK CONGRESS' PAY UNTIL IT RAISES DEBT LIMIT
Biden has 11 days to come to an agreement with House Republicans before the U.S. defaults on its debt for the first time in history. Biden appeared to wash his hands of the issue in a statement to reporters in Japan, however, saying, "I've done my part," and declaring himself "blameless" if there is a default.
The White House claims some "MAGA Republicans" are working to intentionally derail negotiations and cause a default, which would lead to economic disaster and potentially harm Biden's re-election effort.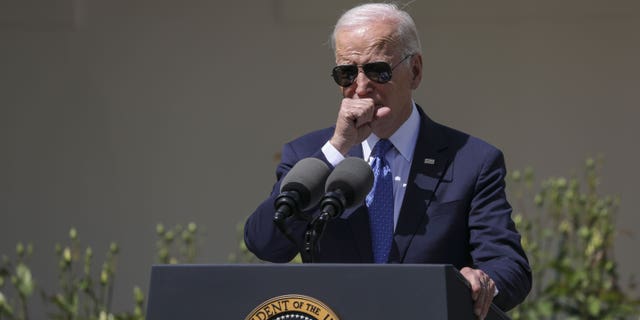 Meanwhile, McCarthy has argued the opposite, saying the president is in the thrall of left-wing Democrats.
CLICK HERE TO GET THE FOX NEWS APP
"The president has really shifted right after the more progressive socialist wing of the party stood up and says they want to spend more money," McCarthy told Fox News host Maria Bartiromo on Sunday. "He's now bringing something to the table that everyone said was off the table. It seems as though he wants default more than he wants a deal. That's not where I'm at, and the one thing you know… about me, Maria, I will never give up."
(Visited 1 times, 1 visits today)
KNOWLEDGE is POWER / REAL NEWS is KEY
Woke & Liberal News is Fake News
You will find it on:
CNN - CBS - MSNBC - ABC - The New York Times - The Washington Post - Facebook - Twitter and more
They ALL SUCKS and simply DO NOT tell you the truth PERIOD

WARNING! If you usually get your news from one of these so-called "News Services" Welcome to you, but be prepared for big surprises!
eg. 2+2 is not 5 or 22 but 4 - There is not 57 different genders, only 2
KNOWLEDGE is POWER / REAL NEWS is KEY
Help your friends, family and the truth by sharing this article.

PGlmcmFtZSB3aWR0aD0iNjQwIiBoZWlnaHQ9IjM2MCIgc2Nyb2xsaW5nPSJubyIgZnJhbWVib3JkZXI9IjAiIHN0eWxlPSJib3JkZXI6IG5vbmU7IiBzcmM9Imh0dHBzOi8vd3d3LmJpdGNodXRlLmNvbS9lbWJlZC8ydEZzdEJzNjFQRTUvIj48L2lmcmFtZT4=
IMPORTANT!
Latest Video
PGlmcmFtZSBpZD0ib2R5c2VlLWlmcmFtZSIgd2lkdGg9IjY0MCIgaGVpZ2h0PSIzNjAiIHNyYz0iaHR0cHM6Ly9vZHlzZWUuY29tLyQvZW1iZWQvJTQwQWxleEpvbmVzQ2hhbm5lbD9mZWF0dXJlPWxhdGVzdCIgYWxsb3dmdWxsc2NyZWVuPjwvaWZyYW1lPg==
PGlmcmFtZSB3aWR0aD0iNjQwIiBoZWlnaHQ9IjM2MCIgc2Nyb2xsaW5nPSJubyIgZnJhbWVib3JkZXI9IjAiIHN0eWxlPSJib3JkZXI6IG5vbmU7IiBzcmM9Imh0dHBzOi8vd3d3LmJpdGNodXRlLmNvbS9lbWJlZC9CWDhmdW1VR2pRTUQvIj48L2lmcmFtZT4=
THIS IS IT!!!
Latest Video
PGlmcmFtZSBpZD0ib2R5c2VlLWlmcmFtZSIgd2lkdGg9IjY0MCIgaGVpZ2h0PSIzNjAiIHNyYz0iaHR0cHM6Ly9vZHlzZWUuY29tLyQvZW1iZWQvJTQwUlQ/ZmVhdHVyZT1sYXRlc3QiIGFsbG93ZnVsbHNjcmVlbj48L2lmcmFtZT4=
Livestream
PGlmcmFtZSBpZD0ib2R5c2VlLWlmcmFtZSIgd2lkdGg9IjY0MCIgaGVpZ2h0PSIzNjAiIHNyYz0iaHR0cHM6Ly9vZHlzZWUuY29tLyQvZW1iZWQvJTQwUlQ/ZmVhdHVyZT1saXZlbm93IiBhbGxvd2Z1bGxzY3JlZW4+PC9pZnJhbWU+
Want The Real News
and join millions of other active users