Website 👉 https://u-s-news.com/
Telegram 👉 https://t.me/usnewscom_channel


The Biden administration has repeatedly pointed to a decrease in crossings at the southern border in May and June as a key indicator that its latest post-Title 42 border policies are working – but now that narrative is being undercut as the numbers are surging back up.
The Washington Post reported this week that initial Customs and Border Protection (CBP) data shows 177,000 arrests by Border Patrol between ports of entry in August, up from 132,652 in July and 99,539 in June. Family units were the biggest single demographic group.
With encounters at ports of entry at around 50,000, according to the Post, it would mean overall encounter numbers of around 230,000, up from 183,000 in July and around 144,000 in June. It would also be above the 204,000 encountered in August last year.
DHS WARNS MEXICO MAY STOP TAKING BACK SOME ILLEGAL IMMIGRANTS IF KEY POLICY BLOCKED, TRIGGERING NEW 'SURGE'
At the end of the Title 42 public health order on May 11, numbers started going down as the Biden administration implemented a slew of new policies, including parole policies, increased Title 8 enforcement and an asylum rule to limit claims by some illegal immigrants.
Biden officials have claimed that by expanding "lawful pathways" for migration — including parole, increased refugee resettlement and even setting up processing centers in Central America — and by increasing the consequences for illegal entry, the administration could bring order to a crisis at the border that has dogged the White House for years.
While officials urged caution about drawing long-term conclusions about the numbers, the administration also tied the drop in encounters to its policies.
"As a result of comprehensive planning and preparation efforts, there has been a significant reduction in encounters along the Southwest border since the return to full Title 8 immigration enforcement on May 12," acting CBP Commissioner Troy Miller said in a statement in June.
"Since the CDC's Title 42 public health order lifted and the Biden-Harris Administration's comprehensive plan to manage the border went into full effect on May 12, DHS has continued to experience a significant reduction in encounters at the Southwest Border," DHS said in June, before later saying the plan is "working as intended."
"Our approach to managing the borders securely and humanely even within our fundamentally broken immigration system is working," DHS Secretary Alejandro Mayorkas said at a House Judiciary Committee hearing in July. "Unlawful entries between ports of entry along the southwest border have consistently decreased by more than half compared to the peak before the end of Title 42."
Even this week, the White House was tying success to the decrease in border crossings.
DHS TO LAUNCH 'NATIONAL CAMPAIGN' TO GET SOME MIGRANTS WORK PERMITS AS NEW YORK BEGS FOR HELP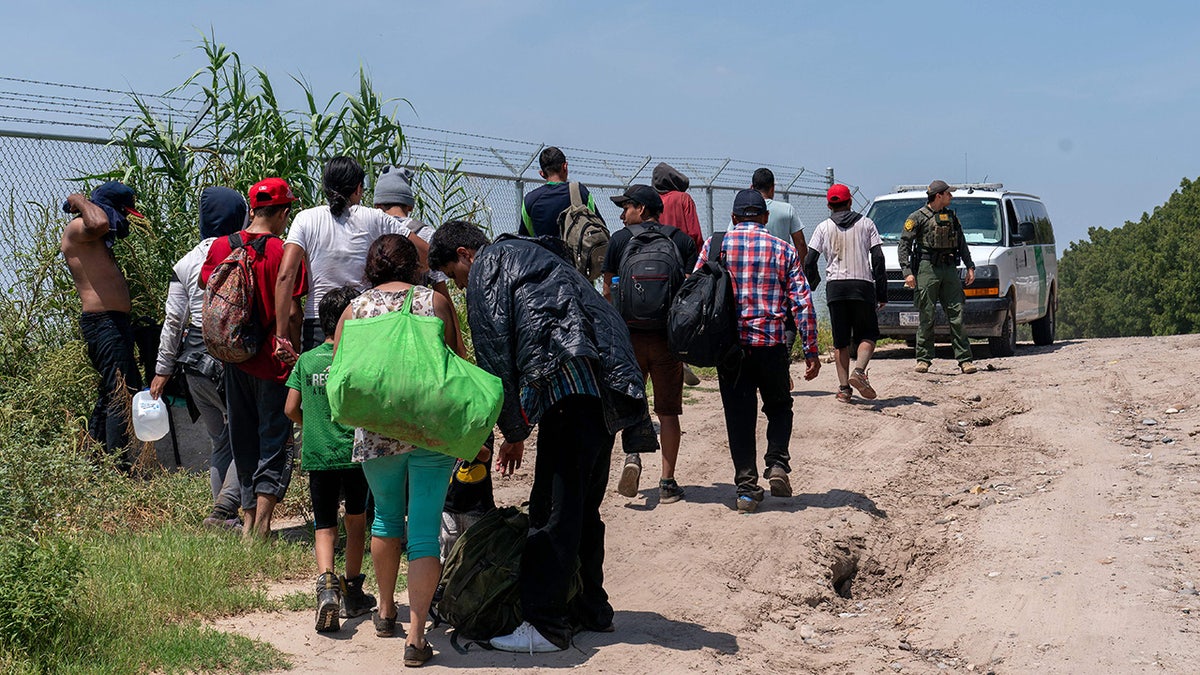 "The President has done more to secure the border and to deal with this issue of immigration than anybody else," Press Secretary Karine Jean-Pierre said at a White House press briefing on Friday. "He really has. June saw the single largest month-to-month drop in unlawful border crossings because of the policies this president put in place."
Jean-Pierre was also asked on Thursday why the administration had been unable to stop the flow of migration. "We are stopping the flow at the border," she said, before blaming Republicans for not fixing a "broken immigration system."
"What they choose to do is play politics, but the President has put a plan that is . . . indeed stopping, slowing down the flow of unlawful migration.  And that is because of the work that this President continues to do without — without the help of Republicans," she said.
In a statement to Fox, a DHS spokesperson said that since May, the agency has removed or returned over 200,000 individuals,  including over 17,000 individual family members — and has also conducted a "significant increase" in removal flights in August. 
"This Administration continues to lead the largest expansion of lawful pathways in decades, which has reduced irregular migration while facilitating safe, orderly, and humane management of our borders," the spokesperson said. "But as with every year, the U.S. is seeing ebbs and flows of migrants arriving fueled by seasonal trends and the efforts of smugglers to use disinformation to prey on vulnerable migrants and encourage migration."
"We remain vigilant and continue to adjust our operational plans to maximize enforcement efforts against those noncitizens who do not use lawful pathways or processes, including a 5 or more year bar on reentry to the United States, possible prosecution for attempting unauthorized reentry, and losing eligibility for lawful pathways migrants could have otherwise used," the spokesperson said, noting also the Family Expedited Removal Management (FERM) process as one element of its efforts to return family units. 
Increased numbers will only serve to fuel Republican criticism of the administration, who have blamed the surge, which is now into its third year, on the administration's increased releases of migrants into the interior and rolling back of Trump-era policies. Republicans have passed legislation in the House that would limit asylum claims, continue border wall construction, and end the controversial parole programs, but Democrats and the administration have shown no interest in the legislation. 
DHS TO LAUNCH 'NATIONAL CAMPAIGN' TO GET SOME MIGRANTS WORK PERMITS
The Biden administration, meanwhile, still touting the supposed success of its policies, has also said there is only so much it can do within a "broken" system, and it has consistently called for an immigration reform bill to be passed, and funding from Congress. 
"It is abundantly clear that executive action cannot solve the entrenched challenge of migration in our region, and that neither party can address its impact on our border by itself," DHS said in June. "Until and unless Congress comes together in a bipartisan way to address our broken immigration and asylum system, we will continue to see surges in migration at our border."
The White House recently called for an additional $4 billion in funding as part of its budget supplemental request to Congress. It has also proposed legislation on its first day in office, but that has been rejected by Republicans for the inclusion of a pathway to citizenship for millions of illegal immigrants already in the country.
On Friday, Jean-Pierre again blamed Republican lawmakers for a lack of cooperation.
"Look, the President has done what he can from here, from the federal government, from the White House, to put forth and manage our border in a safe and humane way to respect the dignity of every human, as he says all the time, and making sure that our communities are safe. And you have seen him do that," she told reporters.
"But the system is broken. We want to do this in a bipartisan way. Republicans refuse to do that."
(Visited 6 times, 1 visits today)