Website 👉 https://u-s-news.com/
Telegram 👉 https://t.me/usnewscom_channel


House Democratic Whip Katherine Clark's daughter was arrested on Saturday evening for allegedly spray-painting a monument and assaulting a police officer during a protest. 
"I love Riley, and this is a very difficult time in the cycle of joy and pain in parenting," Clark tweeted. "This will be evaluated by the legal system, and I am confident in that process."
Riley Dowell, 23, was arrested and charged with assault with a dangerous weapon, destruction or injury of personal property, and damage of property by graffiti. 
The Boston Police Department referred to the suspect as "Jared Dowell." Clark has spoken in the past about how one of her children is non-binary.
Officers were called to the Parkman Bandstand Monument in the Boston Common around 9:30 p.m. on Saturday evening about a protest. 
When they arrived, they saw Dowell allegedly spray-painting "ACAB," which stands for "All Cops Are Bastards," and "NO COP CITY," an apparent reference to a police training facility in the suburbs of Atlanta that has sparked protests after officers shot and killed a protester who opened fire on them earlier this week. 
ATLANTA: PROTESTERS CALL FOR 'VIOLENCE' AGAINST POLICE AFTER SHOOTING LEAVES 1 DEAD, OFFICER INJURED
While police arrested Dowell, a group of 20 protesters "began to surround officers while screaming profanities though megaphones on the public street causing traffic to come to a standstill," according to police. 
The protesters were "interfering with the arrest" and "an officer was hit in the face and could be seen bleeding from the nose and mouth."
Dowell will be arraigned in Boston Municipal Court. 
Clark, 59, is the second highest-ranking Democrat in the House of Representatives after being elected whip last month. 
Another protester accused of spray-painting the monument, 27-year-old Andrea Colletti, was arrested about an hour later. 
GEORGIA STATE TROOPER SHOT BY PROTESTER AT 'COP CITY' NEAR ATLANTA
Protests erupted in Atlanta this week over a new police training facility after officers shot and killed 26-year-old environmental activist Manuel Esteban Paez Teran. 
Teran first shot and wounded a Georgia state trooper before police returned fire, according to authorities.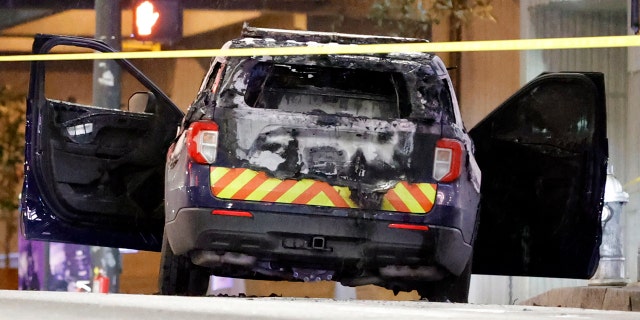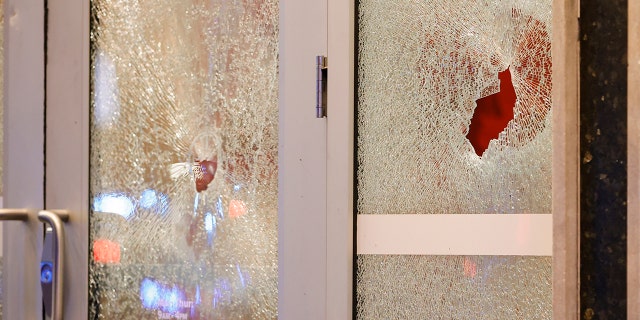 CLICK HERE TO GET THE FOX NEWS APP
On Saturday evening in Atlanta, protesters smashed windows, set a police vehicle on fire, ignited fireworks, and threw rocks at the Atlanta Police Foundation Saturday evening, according FOX 5 Atlanta.
(Visited 27 times, 1 visits today)
KNOWLEDGE is POWER / REAL NEWS is KEY
Woke & Liberal News is Fake News
You will find it on:
CNN - CBS - MSNBC - ABC - The New York Times - The Washington Post - Facebook - Twitter and more
They ALL SUCKS and simply DO NOT tell you the truth PERIOD

WARNING! If you usually get your news from one of these so-called "News Services" Welcome to you, but be prepared for big surprises!
eg. 2+2 is not 5 or 22 but 4 - There is not 57 different genders, only 2
KNOWLEDGE is POWER / REAL NEWS is KEY
Help your friends, family and the truth by sharing this article.

PGlmcmFtZSB3aWR0aD0iNjQwIiBoZWlnaHQ9IjM2MCIgc2Nyb2xsaW5nPSJubyIgZnJhbWVib3JkZXI9IjAiIHN0eWxlPSJib3JkZXI6IG5vbmU7IiBzcmM9Imh0dHBzOi8vd3d3LmJpdGNodXRlLmNvbS9lbWJlZC8ydEZzdEJzNjFQRTUvIj48L2lmcmFtZT4=
IMPORTANT!
Latest Video
PGlmcmFtZSBpZD0ib2R5c2VlLWlmcmFtZSIgd2lkdGg9IjY0MCIgaGVpZ2h0PSIzNjAiIHNyYz0iaHR0cHM6Ly9vZHlzZWUuY29tLyQvZW1iZWQvJTQwQWxleEpvbmVzQ2hhbm5lbD9mZWF0dXJlPWxhdGVzdCIgYWxsb3dmdWxsc2NyZWVuPjwvaWZyYW1lPg==
PGlmcmFtZSB3aWR0aD0iNjQwIiBoZWlnaHQ9IjM2MCIgc2Nyb2xsaW5nPSJubyIgZnJhbWVib3JkZXI9IjAiIHN0eWxlPSJib3JkZXI6IG5vbmU7IiBzcmM9Imh0dHBzOi8vd3d3LmJpdGNodXRlLmNvbS9lbWJlZC9CWDhmdW1VR2pRTUQvIj48L2lmcmFtZT4=
THIS IS IT!!!
Latest Video
PGlmcmFtZSBpZD0ib2R5c2VlLWlmcmFtZSIgd2lkdGg9IjY0MCIgaGVpZ2h0PSIzNjAiIHNyYz0iaHR0cHM6Ly9vZHlzZWUuY29tLyQvZW1iZWQvJTQwUlQ/ZmVhdHVyZT1sYXRlc3QiIGFsbG93ZnVsbHNjcmVlbj48L2lmcmFtZT4=
Livestream
PGlmcmFtZSBpZD0ib2R5c2VlLWlmcmFtZSIgd2lkdGg9IjY0MCIgaGVpZ2h0PSIzNjAiIHNyYz0iaHR0cHM6Ly9vZHlzZWUuY29tLyQvZW1iZWQvJTQwUlQ/ZmVhdHVyZT1saXZlbm93IiBhbGxvd2Z1bGxzY3JlZW4+PC9pZnJhbWU+
Want The Real News
and join millions of other active users