Website 👉 https://u-s-news.com/
Telegram 👉 https://t.me/usnewscom_channel


Republican Arkansas Gov. Sarah Sanders made a major endorsement Wednesday in the race for the 2024 GOP presidential nomination.
"Our country has never needed Donald Trump more than we do right now," Sanders told a crowd gathered at a Hialeah, Florida rally in support of former President Donald Trump.
"We've got out of control inflation, violent crime, an open border, a rising China. Biden and the left have failed over and over again, and they know it, and you know it, and it is time for a change. That is why tonight I am so proud to endorse my former boss, my friend, and everybody's favorite president, Donald J. Trump," she added.
VP HARRIS SAYS SHE AND BIDEN 'OBVIOUSLY HAVE A LOT OF WORK TO DO' TO WIN RE-ELECTION IN 2024
The rally is seen as a counter programming move by Trump, as the event is being held simultaneously as the third GOP presidential primary debate just a few miles away in Miami. 
Trump – the commanding front-runner for the nomination as he makes his third straight White House run – is once again skipping out on participating in the debates with his Republican rivals.
Sanders, the daughter of former Arkansas Gov. Mike Huckabee, served as White House press secretary for two of Trump's four years in office. And she's been a strong Trump ally since he left the White House.
JEAN-PIERRE SPIKES FOOTBALL ON GOP AFTER ELECTION NIGHT, CITES 'EXTREME' POLICY THAT GAVE DEMS AN EDGE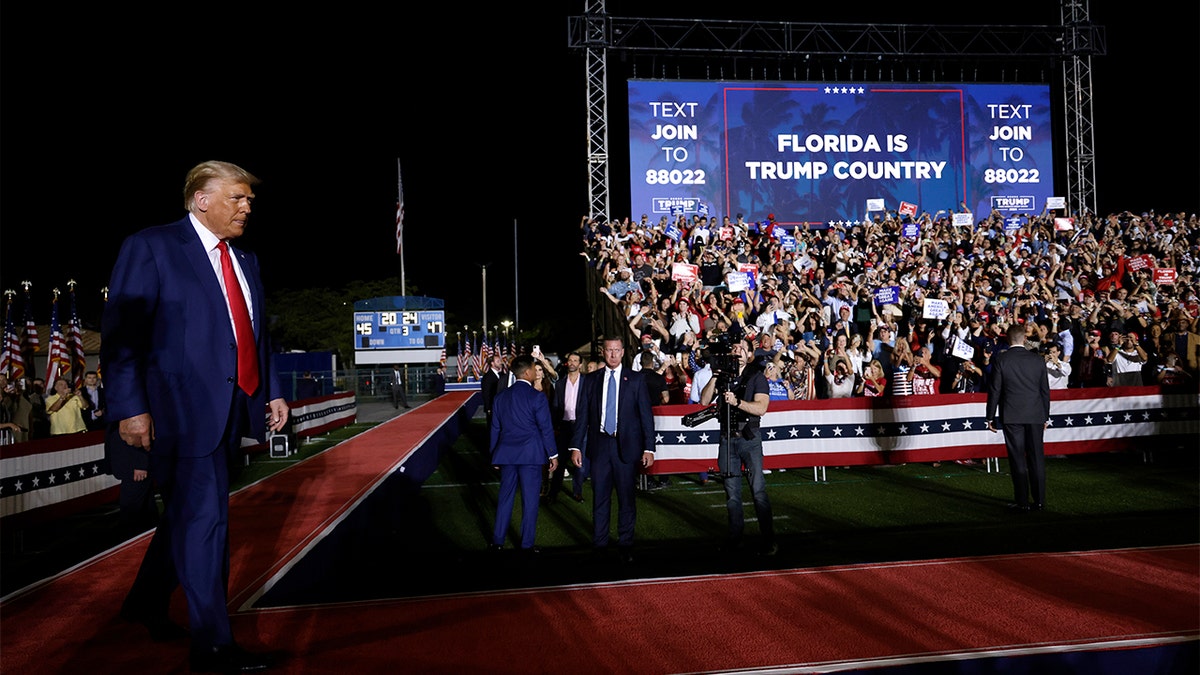 She was convincingly elected Arkansas governor last November, had stayed neutral until now in the GOP presidential primary race. Her holding off on making an endorsement irritated the former president, according to sources in Trump's political orbit.
CLICK HERE TO GET THE FOX NEWS APP
DeSantis and former South Carolina Gov. Nikki Haley, who served as ambassador to the United Nations during the Trump administration, are currently battling for second place in the polls in Iowa and the other crucial early voting states.
Get the latest updates from the 2024 campaign trail, exclusive interviews and more at our Fox News Digital election hub.
(Visited 18 times, 1 visits today)